GURUmicro

has been servicing the Apple
®

iPhone in the Columbus, OH area since the 1st generation (2G) was released in 2007. We stock parts for all iPhone models, from the first generation 2G up to the newest 10th anniversary iPhone X!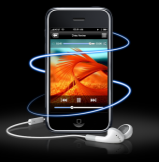 Call us or send an email for a quick quote and to schedule a time to bring in your phone for repair.
Buying a refurbished replacement is no longer the only option if you happen to have an "out of warranty" or other "non-covered" physically damaged or water damaged phone. We can help!
Do you have Broken Glass?
Our most common iPhone repair is the glass touch screen replacement. Screen repair takes approximately 30 minutes and we will typically do it "while you wait". If you book a repair time in advance using the "Book Now" link below, this will allow us to repair your device as soon as you arrive. Walk-ins also welcome.
*The prices listed below are for the highest grade OEM premium quality screens and all come with a 90 Day Warranty. Lower priced options may be available at other repair shops, but we only stock the OEM high grade screens. If comparing our prices to other shops quoting prices using the lower or mid-grade screen options, let us know and we can either special order the comparable lower grade screen for your device or possibly even price match using premium OEM grade!
Broken Screen Repair Pricing: (this fixes not only cracked glass, but also faulty touch sensitivity and/or lines or black splotches on the display)
iPhone 5, 5C, 5S, 6
Glass Screen/LCD repair $65
iPhone 6S/6S Plus+
Glass Screen/LCD repair $65
iPhone 7, 8 and SE 2020/2022
Glass Screen/LCD repair $70
(Original OEM)
7plus/8Plus
Glass Screen/LCD repair $75
(Original OEM)
iPhone XR
Glass Screen/LCD repair $85
(Orignal OEM IPS LCD)
iPhone X and XS
Glass Screen/LCD repair
$100
(Soft OLED)
$75
(Aftermarket LCD)
iPhone XS MAX
Glass Screen/LCD repair
$115
(Soft OLED)
$90
(Aftermarket LCD)
iPhone 11
Glass Screen/LCD repair $85
(Original IPS LCD)
iPhone 11 Pro
Glass Screen/LCD repair $110 (Soft OLED) $85 (Aftermarket LCD)
iPhone 11 Pro Max
Glass Screen/LCD repair $130 (Soft OLED) $90 (Aftermarket LCD)
iPhone 12 Mini
Glass Screen/LCD repair $135 (Hard OLED) $110 (Aftermarket LCD)
iPhone 12/12 Pro
Glass Screen/LCD repair $150 (Soft OLED) $100
(Aftermarket LCD)
iPhone 12 Pro Max
Glass Screen/LCD repair $165 (Soft OLED) $120 (Aftermarket LCD)
iPhone 13
Glass Screen/LCD repair $199 (Soft OLED) $120 (Aftermarket LCD)
For iPhone 13 Pro, 13 Pro Max and All variants of the iPhone 14 Series:
**Please call before scheduling a repair if you have a 13 Pro Max or any 14 series models of iPhone. We will verify the most current part pricing and availability. Our vendor part prices on these most current models vary weekly based on grade of screen and availability. We always strive to provide the best quality parts at the best price possible!
---
We offer while-you-wait appointments for glass replacement and many other common iPhone repairs. iPhone 5 and 6 series screen replacement takes about 30 minutes. iPhone 7 and 8 series devices take about 45 minutes.

Relax in Our Waiting Area or Explore Pickerington Village
We have free WiFi so you can work while you wait or enjoy Olde Pickerington Village's many boutiques, antique shops, restaurants, micro brewery and even a community park all within 1 block walking distance of our shop!
---

The part prices below are approximate and are displayed here for your convenience and general reference. Prices may vary slightly between devices. Call us with any questions!
P
ower Button, Mute Switch or Volume Toggle Buttons
$99
Home Button replacement on iPhone



(Note: On iPhone 6,7 and 8 series iPhones, non working home buttons can be replaced to re-gain click functionality, but the finger print reading function will become disabled)
$40
Battery

replacement iPhone 5/6/7/8 and X series devices
$45-$65
Charging Port

replacement

(Fixes Microphone, charging issues, dead phone...more)
$55-$95
Lightning Cable Broken Off inside Charge Port (price varies depending on removal method)
$20-$45
Liquid Damage - Disassembly and internal cleaning (click here for details)
$50
Lower Speaker Housing (Fixes bad Ringer/Loudspeaker/No App Sounds...)
$25
Weak WiFi signal, poor Bluetooth range and/or inaccurate GPS location
$50-$75
Earpiece Speaker no sound or voices sound muffled or distorted
$35
SIRI not responding and/or screen not shutting off when raised to ear
$45
FaceTime camera not working or blank screen when camera initializes
$45
Rear Camera not working or when switching from front to rear cameras screen goes black. Shaking or jittery image and/or camera won't focus.

(Price varies based on your iPhone model, please call for an exact quote.)
$40-$150
Rear Camera Lens
cracked outer glass lens cover replacement.
This is the exterior lens glass (typically a round lens on most models or oblong on X series and plus model phones) located on the backside of the phone. Some models we do not service, please call first to verify.
$40-100
Diagnostic Fee
Sometimes we must charge a diagnostic fee due to the time involved in troubleshooting some iPhone issues. Under some circumstances, minor repairs not listed above, that do not require parts can be made and you will only be charged our base diagnostic fee price of $25. Diagnostic fees may apply to devices that have suffered severe damage and have multiple issues, devices that won't turn on at all and will need various parts installed to determine fault and/or any device that has issue(s) not immediately apparent and requires device disassembly. The diagnostic fee is waived and you are only charged the standard repair price for your issue once the device is fully diagnosed and you agree to pay our standard repair price to resolve the issue(s).
$25
We always keep in stock the screens for the following iPad models:

iPad 5th and 6th generation (9.7" screen)

iPad 7th, 8th and 9th generation (10.2" screen)

iPad Air 1st generation.


Most of the above listed iPad screen repairs (using the highest grade OEM replacement screens) are between $100-$135. Feel free to call us to get an exact ipad screen repair price quote based on your model. For all other models, see below
*
*For iPad Air 2 and newer, all iPad Pro Series and iPad 10th Generation and above, please call for current repair prices. These models screen part prices are always changing weekly. We will quote your repair price based on the most current prices, assuring you will alwaqys get the best quality replacement parts at the best possible price!

iPad Glass Digitizer Touch Screen Replacement

$

99-$135

iPad LCD Replacement (display screen under the glass is damaged, not lighting up and/or has lines or black splotches limiting screen view ability)

$150-$200


We repair only select models of the iPad due to Apples manufacturing variances.
The prices above are general price ranges for cracked glass repairs, but exact model and other metal housing damage issues may effect final price.


Typical turn around time for iPad screen repair is 2 business days.
---
Book Your Appointment Online Now!
Schedule an appointment in advance to expedite your repair!
Click the Book Now button below
to go to our appointment booking page and reserve your time slot. Most repairs take under 30 minutes. Walk-ins also welcome, but pre-scheduled repairs do take priority.

---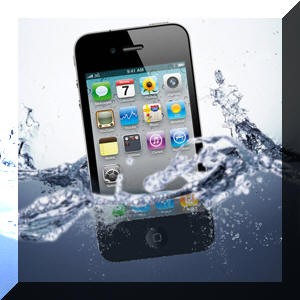 Water or Other Liquid Damage?
Cleaning and full diagnostic is $50 and includes logic board removal, flex cables and connectors, heat shield removal from logic board and complete internal IC cleaning. This service will fully repair water damaged phones about 75% of the time.
Please understand that water damage can cause various issues with your phone and only a full cleaning and diagnostic will allow us to determine it's overall condition. Feel free to call if you have questions about our water damage services.

The first 24hrs following liquid exposure are critical!
The first 24hrs following liquid exposure are critical!
Following our liquid damage guidelines can greatly increase the likelihood of a successful and economical repair.
Click this link to learn more about what to expect when dealing with water damaged iPhones and to see our step by step guide explaining what to do after your iPhone takes an unexpected bath!
---
Custom
Colored
Glass
Installation
Available
!

Did you already buy your own glass or other part online?

We install customer provided parts at reasonable rates! Most screen installs are under $50 when the customer supplies their own screen assembly. Many customers like to purchase custom colored glass on eBay or Amazon, but are not comfortable installing themselves. We can help! Call us for more info, some restrictions apply.
---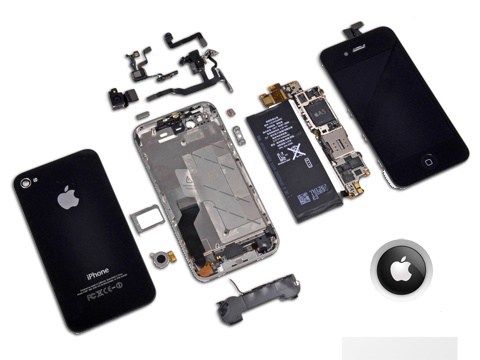 ---
Click the Book Now button to schedule a repair!

---
Multiple Repair Discount:
Please note that if multiple issues exist with your device, the quoted prices above may be significantly less. So if you have a device with multiple problems (or multiple devices needing repair), it's always best to call us with a description of your issues to get an accurate price quote.
We use only the highest quality Apple OEM replacement parts. There are a large number of low grade aftermarket screens and components available for the iPhone. We buy our parts from the same manufactures that supply Apple® with the original iPhone parts. We buy original when available and only the highest grade aftermarket parts if original are no longer available.
GURUmicro will NEVER sacrifice quality for lower prices, for this reason we will not price match our competitors. We always provide the highest quality repair parts at a fair price. Rest assured knowing we are maintaining the integrity and high quality standards of each Apple device we service.
---
We buy broken iPhones for parts, call or email us for current buy prices.
---
My phone is in really bad shape, I'm not even sure it can be fixed. Can I bring it in and have you look at it?
Diagnostic services that require phone disassembly, may incur a nominal $20.00 diagnostic fee. We waive the diagnostic fee if the repair service is approved by the customer. You only pay a diagnostic fee if we spend time disassembling and testing your device and you decide not to proceed with repairs due to repair cost and/or the device is non-repairable. We will sometimes take non-repairable devices in on trade for parts and waive diagnostic fees. Call for more details.
Mail-In iPhone Repair Services
We provide nationwide mail-in iPhone and iPad repair services.

Repair pricing is the same for either mail-in service or in-shop repair service. We accept all major credit card payments over the phone, as well as PayPal online payments. Once your phone is repaired, we will contact you via telephone for the final payment processing (final invoice amount will include a $12.00 flat rate return shipping fee). Please feel free to call us at 614-441-4423 with any questions about the process for mailing in your iPhone for repair services and payment methods.
Turnaround times for mail in services are typically 2 business days (return shipping times may vary). Please print off the Mail-In Service Form from the link below, fill it out and include it with your shipment. We provide this form in Adobe Reader .pdf , MS Word .doc or as a simple printable webpage in .html format to help assure there is a format your system can print easily. *The Adobe .pdf is recommended!
Mail-In Form Download Links:

Mail-In form as Microsoft Word .doc
Mail-In form as a Standard Webpage .html


Like us on Facebook and leave some public feedback about your experience at GURUmicro on our wall. We offer sweet discounts to our Facebook friends!