GURUmicro

has been servicing the Apple
®

iPhone in the Columbus, OH area since the 1st generation (2G) was released in 2007. We stock parts for all iPhone models, from the first generation 2G up to the newest iPhone 5 series devices.

Click Here to see current pricing for every iPhone repair service we offer $$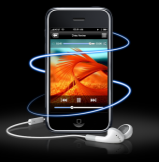 Call us or send an email for a quick quote and to schedule a time to bring in your phone for repair.
Buying a refurbished replacement is no longer the only option if you happen to have an "out of warranty" or other "non-covered" physically damaged or water damaged phone. We can help!
Do you have Broken Glass?
Our most common iPhone and iPad repair is the glass touch screen replacement. This repair takes approximately 30-45 minutes for iPhones and we typically fix it "while you wait". We have a comfortable waiting area with magazines, netflix and T.V. available. You can kick back and relax while your device is professionally repaired with the highest quality OEM parts!
3G and 3Gs models
The price is $55 for glass replacement on the 3G & 3Gs series iPhones
iPhone 4 & iPhone 4S
The iPhone 4 Glass Digitizer/LCD assembly installation cost is $80
iPhone 5
The iPhone 5 Glass Digitizer/LCD assembly installation cost is $120
iPad 2/3/4
The iPad 2/3/4 Generation Glass Touchscreen Replacement is typically $140-$160 total cost parts and labor. A few factors will cause slight variation in pricing between these models, please call us for an exact quote. *Please note that iPad screen replacement takes about 3hrs. in it's entirety, so "while you wait" repairs are not available for iPads.
*Scroll a little further down on this page or click the "Service Rates" link on the sidebar to see a full listing of all the repair parts and services we offer for all models of the Apple iPhone and iPad.
We offer while-you-wait appointments for glass replacement and many iPhone repairs. iPhone 3G/3Gs Glass repairs take 30 minutes. iPhone 4 takes about 45 minutes to an hour.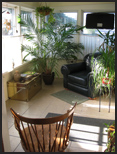 Relax in Our Waiting Area
Feel free to bring your iPad or laptop and use our free WiFi internet while your phone is being serviced. Explore Olde Pickerington Village's many boutiques, antique shops, clothing stores, restaurants and a community park which are all within 1 block walking distance of our shop.
Book an Appointment Online right NOW!
We also offer Online Booking. You can
CLICK HERE
to go to our appointment booking page and reserve an available time slot right now!.
Secure After Hours and Weekend Drop-Off Is Also Available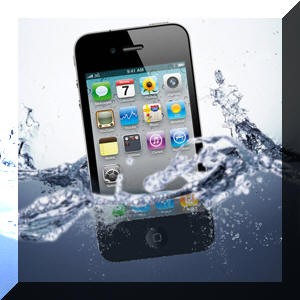 Water or Other Liquid Damage?
Cleaning and full diagnostic is $50 and includes logic board removal, flex cables and connectors, heat shield removal from logic board and complete internal IC cleaning. This service will fully repair water damaged phones about 75% of the time.
Please understand that water damage can cause various issues with your phone and only a full cleaning and diagnostic will allow us to determine it's overall condition. Feel free to call if you have questions about our water damage services.

The first 24hrs following liquid exposure are critical!
The first 24hrs following liquid exposure are critical!
Following our liquid damage guidelines can greatly increase the likelyhood of a succesful and economical repair.
Click this link to learn more about what to expect when dealing with water damaged iPhones and to see our step by step guide explaining what to do after your iPhone takes an unexpected bath!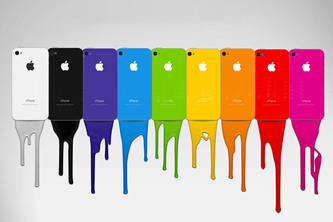 Trick out your iPhone 4 or 4S with a custom color conversion kit!
We provide customization services such as custom colored glass installation for the iPhone 4 and 4S. You bring in the parts from your favorite online supplier or eBay. We'll provide professional custom glass installation for a flat fee of $65.00!

Mail-In iPhone Repair Services
We are now offering nationwide mail-in iPhone repair services. (USA only)
Repair pricing is the same for either mail-in service or in-shop repair service. We accept all major credit card payments over the phone, as well as PayPal online payments. Once your phone is repaired, we will contact you via telephone for the final payment processing (final invoice amount will include a $12.00 flat rate return shipping fee). Please feel free to call us at 614-441-4423 with any questions about the process for mailing in your iPhone for repair services and payment methods.
Turnaround times for mail in services are typically 2 business days (return shipping times may vary). Please print off the Mail-In Service Form from the link below, fill it out and include it with your shipment. We provide this form in Adobe Reader .pdf , MS Word .doc or as a simple printable webpage in .html format to help assure there is a format your system can print easily. *The Adobe .pdf is recommended!
Mail-In Form Download Links (click on your preferred format):
Mail-In form as Adobe Reader .pdf

Mail-In form as Microsoft Word .doc
Mail-In form as a Standard Webpage .html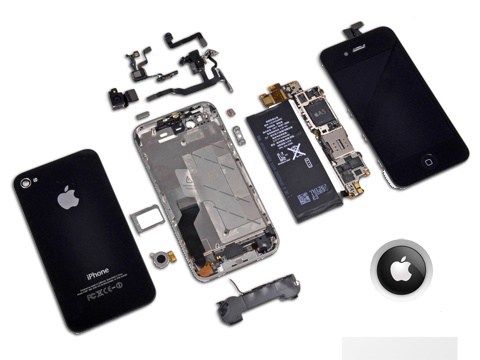 iPhone 4 and 4S Repair Prices
| | |
| --- | --- |
| Cracked or faulty glass touch screen and/or broken LCD | $80 |
Click the Book Now button to schedule a "While-You-Wait" repair!
iPhone 5 Repair Prices
Cracked or faulty glass touch screen and/or broken LCD

$120
Headphone jack, power button, mute switch and volume buttons
(Fixes non-working power button / broken screen sleep lock button)
$75
Home button replacement

(Note: some home button problems are actually caused by a faulty dock port assembly)

$65
Battery replacement
$45
Dock port replacement

(Fixes Microphone, charging issues, dead phone...more)

$80
Liquid Damage - Disassembly and internal cleaning (click here for details)
$70
Lower Speaker Housing (Fixes bad Ringer/Loudspeaker/No App Sounds...)
$50
Earpiece Speaker (Fixes when you can't hear your caller)
$50
iPhone 5S/5C & iPad Air/Mini Repair Prices
We are not currently offering iPhone 5S & 5C nor iPad Air / Mini repair services at this time (with the exception of select liquid damage repairs and/or data recovery from liquid damaged devices).
Part pricing is still extremely high and is projected to be so until at least Janurary of 2014, therefore making it impossible for us to offer a cost effective repair option for these few devices. Typically the most economical option for these recently released Apple devices (iPhone 5S & 5C and iPad Air and mini series) is to either use the Apple "Out Of Warranty" repair service through Apple store locations or their website, or to use your insurance coverage through your cellular carrier if applicable.
Once wholesale part prices drop to a level that allows us to provide services for these devices at a competitive rate, we will update this page to include those devices.
Click the Book Now button to schedule a repair!
iPhone 3G and 3Gs Repair Prices
LCD display replacement
$50
Headphone jack, power button, mute switch and volume buttons
$65
Home button replacement

(some home button problems are actually caused by a faulty dock port assembly)

$50
Battery replacement
$40
Dock port replacement

(internal loudspeaker and mic also included)

$

60

Cracked or damaged glass digitizer touch screen replacements
$

55
iPad 2, 3 and 4
Glass Digitizer Touch Screen replacement

$

140

LCD (display screen under the glass) & Touch Screen Glass repair
$

160

Home button replacement
$

95

Battery replacement (3Pc. Set)
$

175

Dock port replacement
$

160

Headphone jack, power button, mute switch and volume buttons

$160
iPod Touch and iPad Mini
We DO NOT service the iPod Touch or iPad Mini at this time. Unlike the iPhones and full sized iPads which can be repaired more economically, it is typically less expensive to take advantage of Apple's "Out Of Warranty" exchange program than to repair these devices due to the labor/parts cost in most cases.
*Please note that if multiple issues exist with your device, the quoted prices above may be significantly less. For example, if your iPhone 4S needs a screen replacement and a power button repair, the power button is only an additional $15 rather than the $75 price quoted above, due to the fact a large part of the labor for the button replacement is already included in the screen repair price. So if you have a device with multiple problems, it's always best to call us with a description of your issues to get an accurate price quote.
CLICK HERE for Water Damage Repair pricing
All of the above prices are for both parts and labor. We provide 24hr. turnaround time on most repairs. So you can have your iPhone back fast!
Note: We also provide installation service for customer supplied parts, call for labor rate pricing based on the repair needed.
We use only the highest quality Apple OEM replacement parts. There are a large number of low grade screens and components on the market for the iPhone. We buy direct from the same manufactures that supply Apple® with the original iPhone parts. GURUmicro will NEVER sacrifice quality over cost, for this reason we will not price match our competitors on our repair prices and you can be assured of maintaining the integrity of your Apple® device.
We buy all damaged iPhone models for parts, call or email us for current buy prices.
*Diagnostic services that require logic board removal or major phone disassembly, may incur a nominal $20.00 diagnostic fee. We waive the diagnostic fee if the repair service is approved by customer.


LIKE us on Facebook and leave some public feedback about your experience at GURUmicro on our wall!
Earn cash for customer referrals! To learn more about our sales affiliate program and get paid for your referrals! Click Here