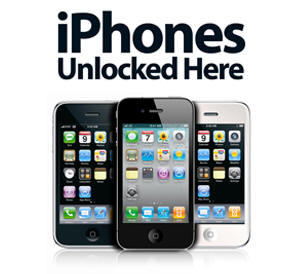 Our unlock processing page has moved. Please click here.
FACTORY UNLOCKING service for any model of the Apple® iPhone.
Unlocked via Apple iTunes on your own computer today or we can unlock your iPhone in our store or over the phone.
No matter which method you choose, your phone will be fully factory unlocked within 24hrs* of payment!
*24hrs is the maximum wait period. Most unlocks typically process through Apple in under 10hrs.
The unlock process is simple.
Unlocking will allow you to use your GSM iPhone 3G, 3Gs, 4 or 4S on ANY other GSM network worldwide (i.e. T-mobile, Simple Mobile, Cellular One, Strait Talk, Walmart Mobile, Vodafone, China Mobile, Orange...any many many more!) No contracts required! No cancellation Fees! You can even use Pay-As-You go SIMs! No expensive data plan required! You can take advantage of many carriers "Bring your own phone" discounted rate plans!
The Instant Online Process: At the bottom of this page enter the IMEI number from your iPhone. Click the Pay Now button and you will be transferred over to PayPal® where you can complete payment process securely using your credit card or PayPal® account. You will receive a confirmation email that your unlock has been processed by Apple® within 24hrs. Once you receive this email, connect your iPhone to your computer with the USB charging cable, launch iTunes and click the restore or update button. Please be sure to use your real email account on the payment form or you will not receive the unlock notification!
It is recommended that you create a backup of your device through iTunes first. When you click the restore button, select the backup you just created from the dropdown menu. This way all of your phones contents will be copied back onto your iPhone along with the factory unlock.
The Call-In & In Store Process: Call us with your phone IMEI number (just dial *#06# on your iPhone keypad). We can accept credit card payments over the phone or you can come into our shop with your IMEI number and pay with cash or credit card. You will receive the confirmation email within 24hrs., then just hook you phone up to iTunes on your computer and Apple will finalize the unlock directly through your iTunes software.
That's it!
Within 24hrs of us submitting the request, your iPhone will be permanently unlocked by doing a simple update via iTunes! No jailbreak needed, no Gevey SIM needed, no fear of losing your unlock due to iOS upgrades, no hassles!
To find your iPhone IMEI number, open the keypad on your AT&T iPhone and dial *#06# the IMEI will instantly display on your screen. Please type carefully and double check the number before clicking Pay Now! We are not responsible for unlock failure due to customer error.
Please be sure to use your real email address on the payment form or you will not receive the unlock notification!